One of our favorite places in America is Northern Michigan. Last summer Valery Lantratov visited this area for the first time. We had the opportunity to teach at Just Dance, a small studio in St. Ignace in Michigan's upper peninsula. (Michigan is the only state in the continental U.S. with a quarter of it disconnected from the rest) We were disappointed to learn that the studio has closed. St. Ignace is beautiful in summer.

Another school that we visited on that trip was Ballet Etc. in Traverse City in northern lower Michigan. Fortunately it is still going strong and we made plans to go back. Unfortunately we had a number of scheduling glitches that prevented us from doing so at a particularly leisurely pace.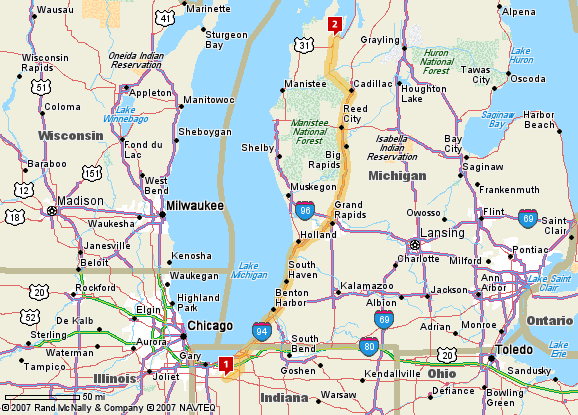 July 11th we trekked from Valparaiso, Indiana along Lake Michigan's coast to Traverse City. Michigan, incidentally, has 3,288 miles of shoreline-- more than any inland state including Florida. The only state with more coastline is Alaska. It was a scenic and relaxing-- but long-- trip. The time change also made the trip seem longer.
We arrived during Traverse City's
annual cherry festival
. It's the city's biggest event and many metro Detroiters head north to enjoy it. We may have been the only people checking into a hotel in Traverse City who would not be visiting the festival. We didn't eat a single cherry. We got in around 9PM, unwound briefly in the hotel and went to bed early enough to be ready for our 10 AM class the next day.
Ballet Etc is another school with "good emotion." In fact, before class I met with one woman who told me she regularly reads this blog and enjoys it. It was great to hear that someone is actually reading this. There are smiles all around and a very positive feeling. We only wish we'd had more time to talk with the people after class, but we had no time to lose. We had just enough time to get from Traverse City to a class at 4PM in Spring Arbor, Michigan which is near Jackson.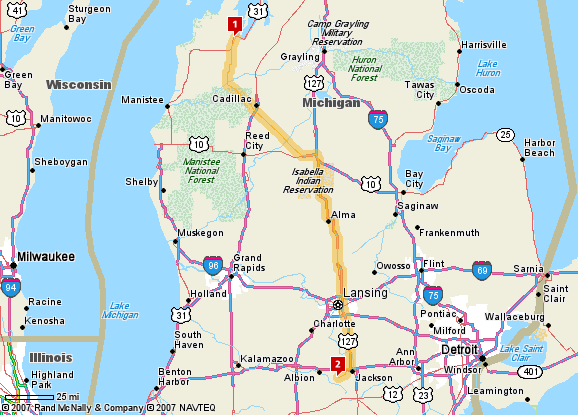 I had decided to try out Rand McNally's online maps instead of our usual Mapquest. Let's just say that we found them to be not quite as user friendly and odd habits like telling you to go North when you need to turn South are not that useful.

With those early snafus, and very little time between the two classes we were trying to make up a bit of time. Given the number of miles we've logged on the road in the past year, I guess it was inevitable that at some point we would hear those infamous words, "Do you know how fast you were going?" The kind policeman gave us a ticket for 5 miles over the speed limit. In the end we arrived for our Spring Arbor class just in time anyway.

Valery noted that this was our 13th class.