June 22, 1912

-Birthday of choreographer and dancer Katherine Dunham (left). With backgrounds in both anthropology and dance, she became a pioneer in the fields of modern dance and dance history. Her research in African-American dance, particularly the Caribbean culture, led her to form the Katherine Dunham Dance Company, the only permanent, self-subsidized, African-American dance troupe at that time. As the Website for the PBS documentary "Free to Dance" explains: "
What Dunham gave modern dance was a coherent lexicon of African and Caribbean styles of movement -- a flexible torso and spine, articulated pelvis and isolation of the limbs, a polyrhythmic strategy of moving -- which she integrated with techniques of ballet and modern dance." (The link above will take you to the full article)

And

on this date in 1987

-legendary screen performer Fred Astaire passed away. Of Astaire, Mikhail Baryshnikov once said, "No dancer can watch Fred Astaire and not know that we all should have been in another business."


June 23, 1810
:
Marie Taglioni (right), the Italian ballerina who popularized dancing on point was born. She became famous in the 1830s when her father, Filippo Taglioni created the ballet
La Sylphide
for her. To create the illusion that she was a weightless fairy she danced on the tips of her toes. There is an interesting article in
Dance Insider
about some controversy over the final resting place of the great dancer. There is also an interesting article on the English language edition of the Russian publication
Ballet Magazine
about Taglioni's influence in Russia.
Also born
on this date, in 1927
, was Bob Fosse (left in rehearsal with dancers), the choreographer and director who, in 1973, recieved an Academy Award for directing "Cabaret", a Tony for directing "Pippin", and an Emmy for directing the tv special "Liza with a Z".
Fosse is the only director to win all three major industry prizes in a single year.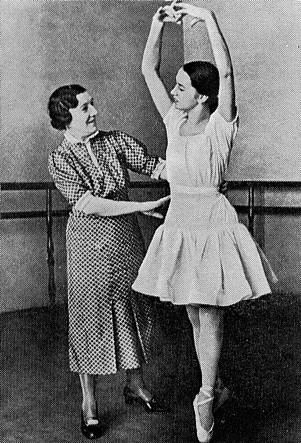 June 24, 1879

-

Agrippina
Vaganova (right) was born.

The Russian ballerina is best known for her teaching.

She combined the best of the old
Imperial
School
of ballet with a more athletic style.

She was such a legendary choreographic teacher that in
America
all Russian style ballet is often referred to as being from the "
Vaganova
School
."
June 25, 1910- Igor Stravinsky's first ballet, The Firebird, is danced by the Diaghilev company in Paris. Below you can see a clip of Diana Vishneva and Andrei Yakolev of the Marinski (Kirov) Ballet dancing a pas de deux from The Firebird.



And on this date in 1997, A velvet gown was sold at Christie's auction to an unnamed bidder for $225,500, the highest bid Christie's had ever received on an article of clothing. It had been worn by Princess Diana at a 1985 White House dinner during which she danced with John Travolta. (Seen below)
June 26 1973- Preeminent choreographer with Sadler's Wells and the Stuttgart Ballet, John Cranko died following a heart attack during his return flight to Germany following an American tour.

June 27 1756-Marie Sallé, the first woman to choreograph ballet for her own performances died at age 45. You can read more about her in this column from Andros on Ballet.


June 28 1902- Richard Rodgers the famous Broadway composer was born. As half of the Rodgers and Hart and Rodgers and Hammerstein teams, he is the man behind such musicals as Oklahoma, The Sound of Music, The King and I, State Fair, Annie Get Your Gun and Carousel.

June 29,

1954

- A star is born as Carol Haney's understudy in the Broadway musical,

The Pajama Game

, goes on in place of the ailing actress and is discovered by theater critic George Freedly. Writes Freedly in his review: "The night I saw the show, Miss Haney was sick and her understudy Shirley MacLaine took over. It was one of the most accomplished and completely professional performances I have had the pleasure of enjoying."




Resource of the Day

For information on Australian ballet and dancers we recommend the Web page Australia Dancing put together by Ausdance, Australia's professional dance organization. It has biographies, resources and valuable oral histories.